They were getting ready to leave for college. They were nervous, excited, and full of questions. What would it feel like to leave home? What would it mean to come back home? Would their new college campuses ever feel like home? These were the questions my students asked me in the summer of 2015. I had been with this particular student group for all four years of high school.
The summer before they left, we met at Shakespeare's, Lakota, and Yogoluv— places that felt like home. I listened and told them that over time, home would seem like less of a location and more of an emotion. Yes, I conceded, you won't return to this exact same constellation of people, emotions, and circumstances. However, it's been my experience that home doesn't shrink, it expands. My students found this notion curious as they packed their cars with posters, books, gym clothes, going-out clothes, mementos from high school that they would rarely look at, childhood blankets, new pillows, and chocolate chip granola bars.
They drove off to their new campuses, and I kept thinking about our conversations. Shortly after, two significant things happened that contributed to my interest in exploring home in the context of schools. First, I took my current position as the Academic Director for Mizzou K-12, an international middle and high school program. Second, I finished a study on the conditions for healthy affective development in schools. Both of these experiences pointed me to new more complicated ideas of what it meant to be at home and why feeling at home is essential to culturally responsive teaching.
During this past month (July 2018) I had the terrific opportunity to explore these ideas more deeply with a team of twenty international educators. These educators and their students were visiting the University of Missouri for Mizzou International Experience (MIE). Our professional group included teachers and coordinators from three countries (U.S.A, Brazil, and Vietnam). Together, we explored the following questions:
What does it mean to create a sense of home in our schools and classrooms?

How does the way we understand home change over time?

What are the conditions that make someone feel at home? How can we foster these conditions in schools?
We shared stories from our childhoods. Some were funny; some were painful; many were both. We shared stories from our classrooms. We laughed. We cried. We saw ourselves in our colleagues' stories.  Our project operated under three guiding assumptions: (1) home is less about place/space and more about emotion/experience; (2) cultivating a sense of home leads to positive learning environments; and (3) understandings of home are highly contextualized.
We pulled out momentos and pictures from our childhoods that we hadn't looked at in a long time. We studied Sandra Cisneros'  novella The House on Mango Street and talked about the ways race, class, gender, culture, and language influenced how we and our students experience home. Through these conversations and this project we formed a professional community of trust and warmth. In this community we we felt at home, which was precisely the point. We paused to consider, how does this feeling happen and how we can cultivate it in schools? Below are four ideas for teachers and other community leaders.
Cultivating a Sense of Home in our Classrooms
Give space to share personal stories, including exploring where those stories started.
Create together. Use the arts as a sense-making and storytelling tool.
Laugh and play, not as auxiliary practices to the "main work" but as integrated practices to community-building and being.
Honor culture. Explore and share the traditions, languages, food, music, dance, beliefs, and customs that make each of us unique.
Our project culminated in a creative showcase held at The Bridge (a "brave space" for inclusivity and equity efforts at the University of Missouri's College of Education and beyond).  Each of the educators on our team shared a creative arts piece exploring the theme of home. Many of the canvases were decorated with family and school photographs. Additionally, each educator read a personal vignette, poem, or letter they had written in the spirit of Cisneros. The texts were courageous and often followed by both tears and applause.
At the showcase, I looked around this room full of brave educators and was struck by how collectively we call so many different places home and also how we all agreed that home is more than a place. Home matters. Home is where we can feel fully ourselves, where we can take risks, where we become who we want to be. Home is where many of our stories start.
This is an important conversation for schools and a new way to frame student support. Last Friday, MIE 2018 came to a close and the students and educators who had been with us for the past few weeks traveled "home."  We said this wasn't "goodbye" — it simply was a "see you soon." We could return to each other here or there, and we all agreed to stay in touch via technology. Yet I knew, just as I had told my students years ago, that we would never return to this exact constellation of people, emotions, and circumstances.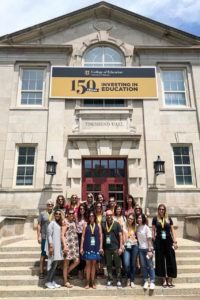 Some things are fixed in space and place by a swirl of variables we can't perfectly replicate. Our classrooms fall into this category. Through this project, we affirmed that home doesn't shrink, it expands. On the dawn of a new school year, I am excited to think of all of the teachers locally and globally who are setting up their classrooms as spaces where students will feel affirmed, valued, and at home.
Warmly, Dr. KFW
___________________________________________
This article first appeared in The Columbia Missourian