Black History Month in the Middle and High School Classroom
This past year has been a year of great reckoning. Teacher leaders are striving to reimagine curriculum around the manifestation of love, justice, and inclusion. In classrooms across the county (and across the globe) schoolteachers are sitting with young children and teenagers, often over zoom, processing complex and important topics. We (Adrian and Kathryn) have come together from our current work in Brazil and the United States to think together about how to cultivate continued equity practices in our classrooms and beyond.
A couple weeks ago, I (Kathryn) facilitated a session with my school team on the value of democracy, the dangers of white supremacy, and the importance of peace. Teachers shared (1) the importance of celebrating the power of today's history markers, and (2) the need to revise and in some cases reimagine curriculum. In this conversation we talked about inclusion and diversity.
As we approach Black History Month, I (Adrian) believe it is important to break open our understandings of inclusion and diversity. What we hope to accomplish in our classrooms moves beyond that. We want students and educators to step outside of our own (and their own) reality, to see other truths and other experiences as valid and right. I think of a tapestry of experiences.
These ideas were the spark for the following resource document. We have put together several classroom activities and resources to celebrate the Black leaders, thinkers, artists, and activists who are making history today. It is our hope that celebrating the works of current history makers will lead to a forward-facing, affirming, and current dialogue in our schools.
As with any such list this is only a modest starting place—a few ideas that we hope will be a catalyst for new bold conversations and projects in your own school communities. The work cannot and must not fit neatly into February—instead it continues all year, becoming part of the fabric of our classroom experiences.
To educators everywhere, thank you for having conversations that matter, for teaching more complete histories, and for believing with the young people we serve that they don't have to wait to become the history makers our world needs.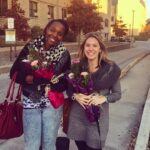 Yours for the journey, Dr. Kathryn Fishman-Weaver, and Dr. Adrian Channel Clifton

Essential Questions for Students
What does it mean to be a history maker?
How are leaders, artists, and scientists shaping history?
What voices and stories would you like to hear and see more of?
Reflective Questions for Educators
Who are the history makers right now and how can you celebrate these efforts in your classroom?
What revisions or reimaginings does your curriculum need in order to teach a more complete history, increase representation, and celebrate Black voices?
Starting with Children's Literature
Regardless of age or grade level, children's literature is a powerful conversation starter in the classroom. Below are two new children's books you might use to jumpstart these activities. Both titles explore some of our key history maker themes including intersectionality, leadership, hope, and change.
Questions for discussion:
What stands out to you in this book?
How does this book make you feel and why?
What messages does the narrator offer in these books?
Do these messages imagine new possibilities or present things as they are?
What do you think was the author and illustrator's purpose in creating this book?
OPTIONAL EXTENSION: CHALLENGE STUDENTS TO CREATE THEIR OWN BOOK PAGE. CREATIVITY AND COURAGE ENCOURAGED.
"…but I won't be the last."
One history maker that may be on your students' minds is Vice President Kamala Harris. When Harris took the oath of office on January 20, 2021, she became the first woman vice president in the history of the United States. She is also the first Black person, and the first Asian American to hold that position.
In her acceptance speech, Vice President Harris said, "While I may be the first woman in this office, I won't be the last."
Media Link: Watch an excerpt of this speech here.
Questions for class discussion (adapt as needed for your grade level):
What does it mean to be the first? What are your responsibilities?
How does seeing more lived experiences represented in leadership positions change things?
What had to happen in history to make this (and other) groundbreaking firsts possible?
In Vice President Harris's speech she mentions several identities including race, ethnicity, and gender. Our different identities intersect and contribute to our worldviews, perspectives, and experiences. This idea is called intersectionality and it was proposed by legal scholar and professor, Kimberlé Crenshaw.
Questions for class discussion (adapt as needed for your grade level):
What identities make you you?
How do your different identities intersect and inform your perspectives, worldviews, and experiences?
Are there times when certain identities are more foregrounded? If so, what are those times?

Stacey Abrams – "Truth Seekers"
4 x 20 minute reflective lessons
Background. Stacey Abrams, a lawyer and voting rights activist, says that, "effective leaders must be truth seekers and that requires a willingness to understand truths other than our own." Abrams is truly one of today's history makers. She is responsible for mobilizing 800,000 people to register to vote in her home state in advance of the 2020 elections.
Activity Description. Explore a recent TED Radio Interview with Stacey Abrams. This 25-minute podcast is framed around her identity as a student and contains powerful messages for students and student leaders.
Media Link – https://www.npr.org/2021/01/06/953980644/bonus-episode-stacey-abrams
Spread the listening out over four days. This will give you and your class about 5-8 minutes per day or roughly one big question. Reporter Manoush Zomorodi's questions and Stacey Abrams's stories point to purposeful reflection and personal connection. After listening to each short segment, give students space to process, make connections, and discuss. Try a different processing method each day including free writing, socratic seminar discussions, and whole group dialogue. Close the week with a whole class discussion of key takeaways from Abram's interview, any new intentions students want to set, and a list for future research questions. (See the possible lesson extension ideas below.)

Key themes: expectations, race/racism, gender, goal-setting, leadership, service
Lesson Extensions
Explore Abrams' run for governor in the state of Georgia followed by her subsequent work around voting rights. What lessons can we learn from her work?
Research the history of voting rights, voting suppression, and voter mobilization in the U.S. How does the U.S. voting process compare to other countries?
Amanda Gorman – "The Hill We Climb"
3 x 30 minute sessions
Background. Amanda Gorman was the inaugural poet for President Biden's 2021 inauguration. She is the youngest person to hold the honor of being a U.S. inaugural poet. In 2017 she became the country's first National Youth Poet Laureate. Her poetry performances have been celebrated across our country. Gorman has two forthcoming books.
Context setting: If needed, give background on the U.S. presidential inauguration and the tradition of inaugural poets. Activate prior knowledge by asking students to consider how the political, social, and historical context of 2020 might have informed Gorman's poem.
Description. In this lesson, we will study Amanda Gorman's inaugural poem, "The Hill We Climb" for President Biden's 2021 inauguration.
Session 1: Listen to Gorman's poem and respond. Listen one time through without pausing.
Media Link: https://www.youtube.com/watch?v=LZ055ilIiN4
Discuss the following questions:
What stands out to you about this poem?
What phrases are particularly memorable?
What is Gorman's thesis or main point?
Why historical context does a listener need to understand this poem?
What questions do you have about the poem?
Listen to the poem a second time after the discussion, pausing if necessary to draw out key points from the conversation.
Session 2: Pose the following question to your class. "If you were asked to perform at a presidential inauguration, what would you say or perform?" Challenge students to consider what message they would like to share with the nation. Give students space to draft, create, and workshop original poems, songs, and performance pieces.
Session 3: Host a poetry slam with performances by the class.
Lesson Extension: Facilitate a paired analysis of Amanda Gorman's inaugural poem and Maya Angelou's inaugural poem.
Additional Teaching Resources (including complete lesson plans):
Dr. Kizzmekia Corbett – A Scientist Making History
1 x 50 minute lesson w/ possible science extensions
Background. Dr. Corbett is an immunologist with the National Institutes of Health. She is making history as a lead scientist in the development of a vaccine for COVID-19.
Activate Prior Knowledge: What is a vaccine? What does an immunologist do? Several of the articles we will explore mention that it is important that Dr. Corbett is not a "hidden figure." What does this mean?
Description. Scholarly Jigsaw – Divide students into groups of 4. Assign each group to one of the following articles.
The group will become an expert on this article by completing the following information:
Article Name, News Source, Author
Summary of Key Points, Terms, and Concepts (Bullet points is fine.)
Questions this article raises for your group.
The most important takeaway.
Once the group has become an expert on their news article, jigsaw the class so that students are a new groups with a representative from each of the original groups. Students should then teach other on what they learned in their research and then work together in the new groups to synthesize information.
Who is Dr. Corbett?
Why is her work important to making history?
What have you learned about her life experiences that led to this work?
What science questions do you have about her work?
Possible Science Extensions – Using your research on Dr. Corbett, explore immunology and the process by which vaccines are made.
Possible Science Extension – Using your research on Dr. Corbett, explore immunology and the process by which vaccines are made.
Yolanda Renee King – "We are the Generation"
Lesson Recommendation from Dr. Sherry Denney
3 x 40 minute sessions
Background. Yolanda Renee King is the granddaughter of Martin Luther King, Jr. She is a student leader. She gave this speech to a large crowd at a racial justice rally in August 2020. The speech is her call for us to move into the next phase of the civil rights movement.
Context Setting. Ask students who Dr. Martin Luther King Jr. was and why he is an important historical figure in the U.S. Next ask students how they think his grandchildren might be living out his legacy. Share that today we are going to listen to a speech by Dr. King's granddaughter.
Activity Description.
Session 1: Play the video of Miss King's speech and then break the class into small groups to discuss.
Media link: https://www.nbcwashington.com/news/local/mlk-jr-s-granddaughter-rallies-the-crowd-at-commitment-march/2404254/
Students should note the many historical references made in the speech as a basis for further research. If groups are struggling, you might play the video one more time. When you come back together for a whole-class, debrief discuss these references and give context for any that are unfamiliar to your class.
Session 2: Give each small group the prompt "We are the generation who is going to…"
Miss King offers her own answers to this prompt. Similarly, each young person who tackles this question will bring their own lived experiences and passions to the answer. Encourage students to choose the challenges they hope their generation solves. Working as individuals or in small groups, ask students to craft a two-minute individual speech based on their chosen issue.
Session 3: Hold a class rally for positive change. In the next session, create space for students to give their speeches to their peers. Go over audience expectations in advance of the speeches.
Session 4: In the final session, group students by common themes explored in their speeches, so they can begin developing clear action plans to enact these changes.
Key themes: civil rights movement, equality, social responsibility, leadership, climate change
Kehinde Wiley: Portrait of a President
Lesson recommendation from Brian Stuhlman.
1×30 minute session – multiple sessions
Background. As we explored with Vice President Kamala Harris, Barack Obama's presidency carried the significance of being the first–in this case, the first African American to host that office. President Obama accomplished a lot during his 8-year presidential term. The talented contemporary artist Kehinde Wiley painted a unique and provocative painting of President Obama that hangs in the National Portrait Gallery in Washington, D.C. In this lesson, we will explore Wiley's portrait reading for a multiplicity of meanings to honor a former U.S. president.
Description. Spend quality time looking at (and reading) Kehinde Wiley's National Portrait Gallery portrait of President Barack Obama. The National Portrait Gallery not only offers a digital image of the portrait, but it also provides a guide full of ways to engage with the portrait. This includes background information, engagement questions, and extension activity ideas.
Ask students to begin by writing about their first impressions, and ask them to share those impressions in a discussion. Then, guide students through a discussion about symbolism and metaphor, and the meanings (hidden and overt) that the portrait contains. Next create making session, for students to create their own self-portrait using Wiley's use of symbolism and metaphor as a guide. This is a good opportunity to revisit our discussion of intersectionality.
Key Themes: symbolism, metaphor, traditions, expectations, race
Lesson Extensions

If we want schools to cultivate hope, inclusion, and change, then educators must practice hope, learning, and possibility. To that end, below is a list of additional teaching resources and also a teachers' reading list by contemporary scholars (history makers of today in their own right). Choose one of more of these reads for your next educator book study.
Additional Resources
BLM@School. Black Lives Matter at School – The BLM@School Curriculum Resource Guide is formed and maintained by a volunteer collective of educator activists from all across the US. We've launched on MLK Day to prep educators and advocates toward our 2021 Week of Action, which is Feb. 1-5, 2021.

Black Lives Matter at School Social Justice Books. Here you'll find a growing list of recommended titles and booklists. The lists of children's books below were compiled by Teaching for Change.

The Black Family: Representation, Identity, and Diversity. Each year the Association for African American Life and History sets a theme for Black History Month. The 2021 theme is The Black Family: Representation, Identity, and Diversity. Read more here. https://asalh.org/black-history-themes/

Teaching Hidden Figures – Celebrating the Work of Katherine Johnson
Katherine Johnson, celebrated NASA mathematician, passed away in February 2020. Below are some links to explore her work with your students. These can be paired with a viewing of the film, Hidden Figures.

Math, Science, and Social Justice
Elementary Lesson Plans

The Power of Music in Social Movements – Check out this conversation with Black female activists on why music matters in social movements.
Book Club Recommendations for Teachers