What makes you unique? What traditions are special to your family? What is dinner like at your grandmother's? What place(s) do you call home? Your answers to these questions tell us a little bit about your culture. And a beautiful truth is that no two people will have exactly the same answer to all of these questions. Culture includes shared beliefs, customs, rituals, and traditions. My own identity and culture are unique because of the communities I belong to, the friendships I value, and the experiences I've had. The same is true for our students. Culturally responsive teachers recognize and affirm the connection between our students' cultures and all aspects of their learning (Ladson-Billings, 1994). Culturally responsive practices are necessary in classrooms, relationships, and all forms of communication in order to facilitate access and inclusion.  The following post gives you a few ideas of what this looks like in our middle school and high school classrooms. Check back soon for more posts on culturally responsive teaching.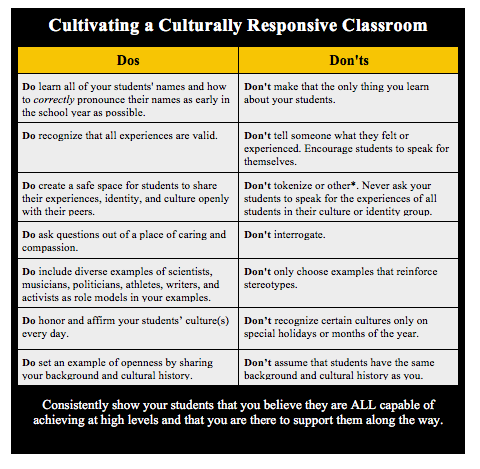 * "The use of other as a verb is rooted in sociology: to other a certain culture or individual is to treat that culture as fundamentally different from another class of individuals, often by emphasizing its apartness in traits that differ from one's own." (Merriam-Webster)
CLASSROOM ACTIVITIES
Knowing that relationships are part of the fabric of culturally responsive classrooms, the following activities ask students to learn more about another cultural group and connect what they learn to their own lived experiences and perspectives. These activities can serve as a starting point for a rich dialogue around difference, identity, and inclusion.
Found Poetry
Gather lyrics of songs from a variety of performers or the specific culture you are studying. Listen to samples in class, discussing their history, significance, and meaning. Then, distribute copies of various lyric sets throughout the class, and ask students to cut up the words so that they are separated into single words and short phrases. Individually or in groups, students will manipulate the words and phrases to form new lyrics. For an added challenge, they can try to rhyme or create a steady rhythm. Encourage students to share their work and celebrate it. Those who are especially interested might choose to build from their found poem and create a full poem or song by adding their own words and ideas. You could then have a class poetry slam or concert.
Art Spark
Gather images of art pieces from a diverse group of artists or from the specific culture or historical time period you are studying. View samples in class, discussing their history, significance, and meaning. Then, ask students to pick a favorite piece — one that caught their attention or spoke to them in some way. They should then focus on just one, small part of the piece (no bigger than about 1/8th of the piece). Provide students with large sheets of paper and a variety of art supplies. Ask them to sketch the small part of the art piece in any spot on their paper. It doesn't have to be perfect or exact! Then, have students create their own art around that piece, incorporating the "spark" into their own work. Keep this activity playful and experimental; you don't have to be a "perfect" artist to express ideas through color and line.
Student Reflection Questions:
Why did you choose that work of art?
What messages do you recognize in it?
Why did you select the specific small part you did?
What successes and challenges did you have in using it to create your own artwork?
What do you hope viewers will see/think/realize/feel when they see it?
What does your art have in common with the original? What's different?
Symbolic Place Setting
As you study a culturally diverse population, lead your students in a symbolic reflection. Ask each student (or partners) to research an individual from this group, collect information about them, and learn what they were/are like in a variety of areas — professionally, culturally, and personally. Then, ask students to imagine that they are inviting this person to a class dinner party.
Each student will design a symbolic place setting that represents various aspects of this person's life. Each student will create a tangible but symbolic placemat, plate, knife, fork, spoon, napkin, and cup. (For instance, if I studied Louis Armstrong the famous jazz trumpeter and singer, my plate might be a handmade record with the title of one of his famous songs, my placemat might be a map of New Orleans, and my spoon might hold a piece of coal — all to represent his profession, where he grew up, and how he made a living before he was famous.)
After students have created their three-dimensional symbolic place settings, hold a class gathering and ask students to bring in snacks (connected to their research subjects, if possible). As students eat together, they will take turns sharing their symbolic reflections and what they learned about the people they learned about through their study. You can build from the students' reflection to lead a discussion.
Student Reflection Questions:
What similarities and differences do you notice between various guests?
What common hopes and dreams do you see?
What struggles and challenges were overcome?
How do you relate to your dinner guest?
If you could ask one question of this person today, what would it be?
What is one thing you'll remember about this guest and why?
Want more ideas?
Teaching Tolerance is a great website with LOTS of open access resources and lesson plans on social justice, global citizenship, and other topics relevant to culturally responsive teaching.
Check back here for more practical ideas and activities to help foster a culturally responsive classroom.
Reference: Ladson-Billings, G. (1994). The Dreamkeepers. San Francisco: Jossey-Bass Publishing Co.
________________________________________________________________
This post was coauthored by Kathryn Fishman-Weaver, Stephanie Walter, and Katherine Sasser