A Letter to my Team (Adapted Slightly for This NEW Space)
April 2021
Dear Team,
I am writing to you from northwestern Iowa. A bird flitters outside my grandmother's kitchen window. More than forty years ago my grandparents moved off the farm and "into town." I've spent more holidays, summers, and long weekends in this kitchen than I can count.
After coming here every few months for my entire life, this past year has been strange, long, and lonely. However, yesterday, I got to hug my grandmother for the first time since January 2020. That first day we spent together it felt like no time had passed. The next day we looked at each other and cried.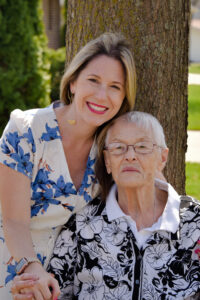 My grandmother is 92 years old. Before she and my grandfather were married, she taught in a little, red, one-room schoolhouse. While she always shakes her head and says she doesn't quite understand it, she loves to hear about my work as a school director at Mizzou Academy, a global, online and blended school system.
This weekend she asked what big projects we were working on and what we had learned in this long last year. I told her about supporting elementary students across our home state. She asked about the curriculum and wanted to hear my thoughts on how all this "computer school" was going.
I told her about our partner schools in Brazil and Vietnam; the closing of school buildings, reopening, reentry, and closing again.
"What has the school year been like for them?" my grandma asked. "And how can teachers welcome and support students back into the classroom?"
Our team has been thinking a lot about these same questions. Stephanie Walter and I just wrote an article for Edutopia on centering student wellness during school reentry.
Florescendo on Campus
Last week I spent a lot of time working with administrators across campus. Amongst the spreadsheet and number talk were two distinct bright spots. First, was the resolved support and celebration we experienced across campus for the work of Mizzou Academy. Over and again, we heard campus officials remark that the work our team is doing to expand access to educational solutions is making an impact. Whether you are a seventh-grader, a new teacher, or a school director, being seen and affirmed is life-giving.
The second bright spot didn't have anything to do with work.
People kept asking me if I had seen the bright white magnolia tree in front of Jesse Hall. The tree became a symbol of spring, returning, and reopening. In Portuguese the word for blossoming is florescendo. I think of this word as a combination of flower and crescendo.
After three days of people asking me if I had seen the tree, I drove my mother to campus, so we could have a look for ourselves. We stood socially distanced from two small groups who were also taking photos of the blossoming tree with their cell phones. All three groups were speaking different languages, we pointed at the bright tree and smiled, the corners of our eyes crinkling up above our masks.
Florescendo for our Team
It has been a challenging year. There has been heartache and loss. And yet, it's also been a year of joy and light. Lately, I have been thinking about this contrast. Last week, my friend and colleague, Jill taught me the word chiaroscuro, which is a technique artists use to represent both light and shadows.
Sitting here at my grandmother's kitchen table, I scan my inbox thinking of what I want to share in our weekly newsletter. There are a lot of bright spots: student exemplars, appreciation notes from families and partner schools, affirmation of the wonderful and compassionate work you all do. Among these highlights from last week, I can't help but notice the more than the usual volume of bright personal updates from our team. Here is an incomplete list:
Our World Language Chair and his family adventured along the Buffalo River.
One of our Language Arts Lead Teachers enjoyed a visit with five of his grandchildren.
Another Language Arts lead performed a gorgeous essay for her congregation.
Our Assistant Principal celebrated her niece's wedding.
Our Science Chair's daughter learned to ski.
Our Social Studies Chair's son is embarking on a new career.
Our Speech and Debate Lead packed his car and drove from Buffalo to Columbia.
Our Middle School Coordinator celebrated his dad's retirement.
Our Math Chair is helping our math team train for a new competition.
Our Technology Specialist celebrated a birthday.
In this first full week of April, the ground is soft with spring and possibility feels palpable. To quote my colleague, Jeff Kopolow, "Whatever holiday is yours right now, dayenu, which freely translated from Hebrew means: May it fulfill you."
Thinking of you all and wishing you the happy blossoming of a bright new season.
Warmly, Kathryn