This is a story about a group of eighth grade students, a woman named Marina, a nine-year-old boy, and the power of our shared humanity.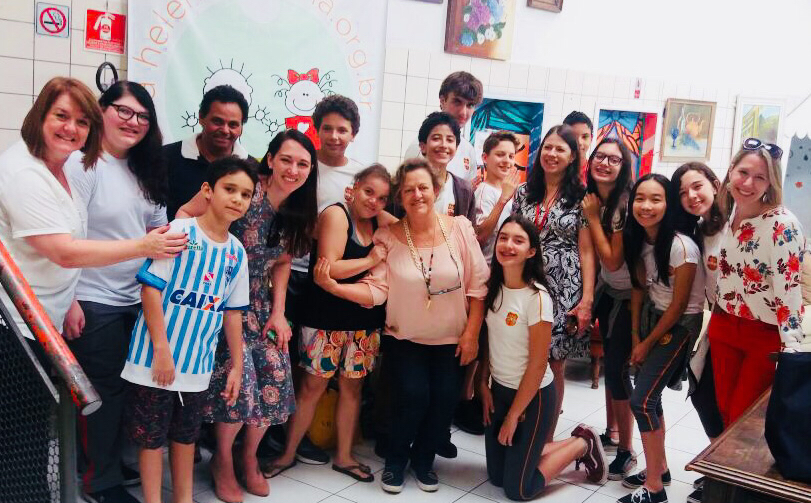 Last Wednesday, we had the privilege of visiting La Casa Maria Helena Paulina in São Paulo. The afternoon was organized by the Grade 8 Middle School Global Leaders at Pio XII. Our Grade 8 class focuses on human rights. To bring the curriculum to life, the students at Pio XII had spent several weeks collecting food, toys, and other items for La Casa MHP and they invited us to help deliver them. We weren't sure exactly what to expect. We picked up a few extra bags of rice, pasta, and flour and arrived ready to help.
La Casa MHP is a free home for families to stay while their children are receiving treatment for cancer. The children's hospital in São Paulo is nationally renowned and families come from all over Brazil and even South America for treatment. The home was started when Maria Helena Paulina was receiving treatment herself and saw families sleeping under a bridge near the hospital because they had no place to stay.
A nine-year-old boy who had been receiving treatment for five-years met us and gave us a tour.  He is small, has an amazing sense of humor, and took us through every room of the house telling great stories along the way.
During our visit to La Casa MHP I met mothers, children, students, teachers, and volunteers all showing up for each other.  A mother and I joked together about our teenage sons who live in different realities and yet are still very much both teenage boys.  My friend who works at Pio XII overheard us and said, "Somos todos mães./We are all mothers."
After the tour, we pulled chairs and couches into a makeshift circle and sat together in the living room. Several residents, a few volunteers, and the house psychologist came to join us. I looked around and was struck by this sudden community we had formed. Marina (Maria Helena's cousin who still manages La Casa MHP) facilitated the conversation. Our students asked questions, heard stories, and shared laughs. It was warm–literally and figuratively. We closed with a giant group hug.
Just before leaving I had a few minutes to speak alone with Marina. I knew what I wanted to say and even how to say it in Portuguese. I got about two sentences in and started crying. We hugged for a long time. Love is universal.
I am thankful that there are so many places across the globe doing important work with great love. Like La Casa MHP you can find these organizations in your cities, just off the sidewalk and around the corner. And what amazing classrooms these are for young people to learn about social inequality, generosity of spirit, and the power of human connection. There are countless people like Marina and the volunteers at La Casa MHP who are making a difference in their communities. And what important teachers these people are for our young people as models of leadership, empathy, and compassion. These are the kinds of lessons you have to learn in the context of community. These are also the kinds of lessons you have to revisit over and over again. I am grateful I had the chance to re-learn them myself last Wednesday.
May we all, always remember to take care of one another. If you are interested in learning more about La Casa Maria Helena Paulina, please click here.
Appreciatively, Dr. KFW